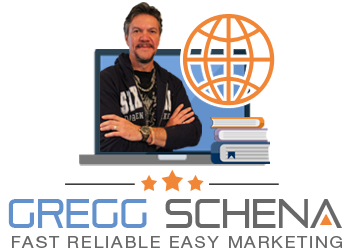 Hello, You either know me already or are interested in learning how to make  Good Money Online. My name is Gregg Schena. The reason I am sharing this blog is to hopefully encourage the neigh sayers about earning a living over the internet. I'm from a traditional family working hours like 8-4 and 40 hours a week. But times change and so do our needs & resources!
You are welcome to follow along with me as I share my story which might be a lot like your own story. It's your first step toward acquiring wealth over the internet which really does work, because you are reading someone's success story here.
I too am always learning so don't think for a moment that you can't make this happen for yourself. I use several software tools,  a little determination & a solid learning foundation to generate a comfortable living. Look over & click some of the links here and you will quickly move forward toward your independent lifestyle, building a bill paying cushion and self security for yourself and your family.
I have worked several different jobs along the way. I enjoyed working in a green house when I was really young and made about $1.25 an hour lol. I loved being a commercial diver on the Gulf coast & am a veteran where I was a door-gunner/electrician on Huey helicopters. I've owned some rental properties along the way before I got married. I then worked a steady job for many years consisting of mechanical maintenance in the industrial field. Just like most people, I was making pretty good money but I was stuck in a dead end job.
Everyday I went to work, I longed to be able to have an income without having to leave my home and family. Working swing shifts was hard on me and my family as times would have it. I would be getting ready to go to work when the kids were getting home. And working midnights was even harder like when I was sleeping during the day, while everybody else was enjoying activities and each others time.
I saw over the internet, how people were making "money online" and having more free time which very much interested me. I bought some "shiny" courses & products with hopes of achieving more income. It didn't take long to realize that there was much more to it than that!
I soon had built an online store website and I enjoyed making it but, it wasn't generating the income for my family to live on. What I really was looking for was a solution to all the "guru's" misinformation! It seemed everybody had just like opinions, the answer to get wealth.
That lead me on the trail of what is know as the "shiny object syndrome". This simply means that all those products were the answer but they never produced the outcome I was working for either. How could I succeed with these new products? I had a pretty good idea of what I wanted to accomplish but there seemed to be a missing link.
That's when I ran across a new friend and successful online marketer "Steven Alvey" and "his" mentor John Thornhill. As I listened and watched Steven share his story, as weird as it sounds, it was just like my own story. I can tell you first hand, that there is nothing better than a personal friend to show you the right way to approach earning a living over the internet. The best way for me to explain it is to see for yourself with John Thornhill.
PS.
With all the Covid Virus and stores closing across America, it is a very good idea to reevaluate how are you going to earn a living or add to your income in these difficult times. You just might appreciate a personal touch with answers for your financial survival and income growth.
"If you have Covid or know someone who does"

I will be posting some very interesting mindset guidelines I'm sure you will remember long after reading and I hope they take you far. Tell me your opinions and see you on here again!
Best Regards to Everyone!
Gregg Schena